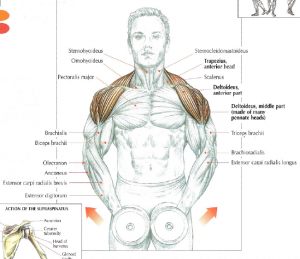 I read a Frederic Delavier's book « Strength Training Anatomy » and there is good stuff.
Standing with your legs slightly apart. Your back straight, your arms along your body with a dumbbell in each hand :
Raise your arms to the horizontal with your elbows slightly flexed

Back to the start position
This exercice works deltoids, mainly middle portion.
The middle portion composed of several bundles which have the shape of a feather converging on the humerus and having the function of maintaining relatively heavy weights and of moving the arm accurately in all directions. It's smart to vary the start of the movement (hands behind butt, hands on sides or hands in front), which makes it possible to word well all middle portion's bundles.
According to the different morphologies (long/short clavicle, acromions more or less covering, humerus insertion of the deltoid more or less low), it's necessary to seek the optimal working angle to his/her morphology.
Lateral raise works also the supra-spinous, non visible muscle that lies deep in the spra-spinous fossa of the scapula (shoulder blade) and is attached to the major tubercle of the humerus.
We can raise arms over the horizon and work upper part of the trapezius.
This exercice is done with relatively light weight and set of 10-25 reps. Vary working angles with short rest times. Work unitl it burn to have better results. To have more intensitiy, it's possible between each rep to keep arms horizontally a few seconds.
-Steph
P.S.Do you want a free workout programs ? Click here 
Free smartphone apps:
To track my calories, I use MyFitnessPal
To track my workout program, I use Jefit 
Please follow, like and share: